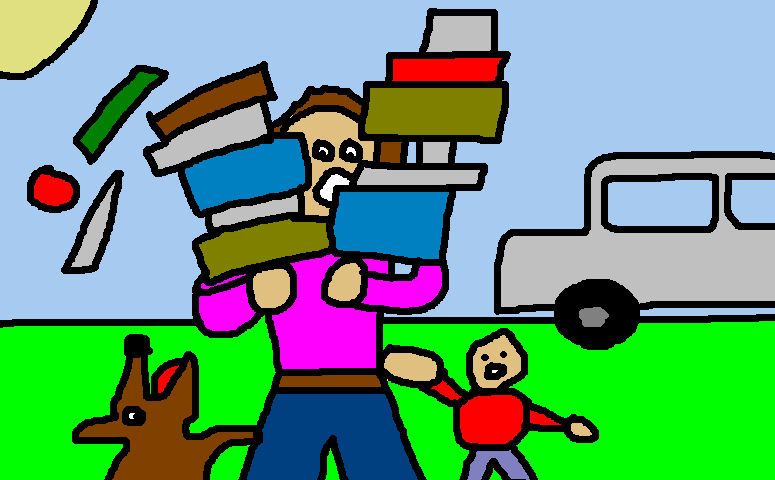 No, I'm not dead or otherwise incapacitated.  So many things have happened in the last few weeks that I haven't had much time to think about a post, much less actually posting the thought. Sorry! I get involved in so many different things that I'm astonished I actually have time to sleep.  I may have to do something about that!  This is a general recap of what's been going on:
After much running between a variety of medical offices, I have a definite diagnosis – it's called supraventricular tachycardia (SVT). In a nutshell, the electric signal that is supposed start at the top, go down in, through and around the bottom of the heart to create the contraction gets screwy. Instead, it starts at the top, goes in and gets caught in a loop, causing the heart to beat faster and faster in an attempt to pump out the blood. Test results have shown that I can go from 80 beats per minute to 165 and not even be aware of the change. This is not good since the overly rapid heart beat causes the heart to pump inefficiently. Thankfully, I'm on a baby dose of medication and it's completely under control now.
My brother-in-law, Rick, and his family have finally moved into their home here in PA after a long and grueling search for a job and a place to live. We've been helping out on weekends, doing some minor repair work and helping set stuff up.
Earlier this month, we managed to take a day off from work and went to the Philadelphia Flower Show with hubbie's sister and her husband.  This year's theme was Ireland.  I have a bunch of pictures from that – some really beautiful displays – but I haven't had time yet to post it to my Flickr account.  Maybe I'll get some down-time this afternoon…
Our niece, Shannon, had a scary medical incident the other day. While at a friend's house, she became incoherent, began mumbling strange things, broke into a cold sweat and started to drift in and out of consciousness. After a really long night (we're still catching up on sleep) and a lot of nasty tests, the doctors came up with nothing. Fortunately, the tests ruled out a lot of very serious conditions that might bring on those symptoms but it isn't very comforting when you still don't know what caused it – or what might inadvertently bring it on again.
Update (3/24/07): Got a phone call today around 11:30 AM – they're taking her back to the hospital.  She quickly developed a horrible headache and is vomiting.  We're praying that the doctor's figure out the cause soon.
I've been busy working on a website re-design for someone else. I'm not about to toot my own horn, so I'm not linking to it. If you know where/what the site is, enjoy it when it comes out (soon) – I'm really quite pleased with the way it has turned out. If you don't know, oh well!
The company I work for was sold and we merged another Local Company a few months ago. Prior to that event, the Local Company had become a partner of a Very Large Company, based south of here, that wanted to expand their territory into our area – a good business move. To consolidate things, Local Company let us know that our current office will be closing sometime around June or July and we were all going to move to their main office a few miles away. I would be moving out of my current position (receptionist/secretary) to a more tech-oriented position. However, Very Large Company has been downsizing in their region and now has asked Local Company, their partner, to consolidate the workflow and do the same. The responsibilities of the position I was supposed to take has been given to someone else at Very Large Company and the position was eliminated. I got that phone call yesterday.Now I have to start the great job hunt. While it is not likely that my current position will be cut prior to the office closing (someone has to answer the calls and keep things running smoothly), it always is a possibility. God has given me complete peace in this situation. I know that the right opportunity will turn up at the right time, as per His plan. One of God's fingerprints is clearly visible : I have approximately 3 months to find a job instead of 3 days or weeks. This is a blessing that I know doesn't happen very often – most times, you've got a couple of weeks at best – and it's a blessing for which I am immensely thankful. He's provided perfectly in the past and I know He will do so again. I just pray that my eyes will be open to see the door He's opening rather than stubbornly staring in the opposite direction at a closed window, willing it to open itself.